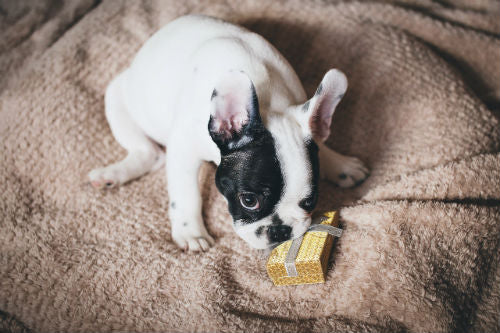 Gifts for Dog Lovers
There are two types of people in this world: those who love dogs, and everyone else. For dog lovers, there is often nothing they love more than their perfect pooch, so getting the perfect pet-themed gift is crucial for these people. Don't fret though because we put together a list of some of the best gifts for dog lovers out there.
Dog Themed Shoes
There is no shortage of dog print shoes and clothing items out there, so this one of the most go-to gifts for dog lovers. Whether you want general dog shoes that feature many breeds, or breed-specific prints such as boxer dog shoes, pug dog shoes, or german shepherd shoes, you can't go wrong getting them pooch-approved shoes.
BarkBox Subscription
Subscription boxes are a popular trend where you a recurring monthly fee for a box of assorted products. These are available in every type of product you can imagine, and there is even one for our furry friends. BarkBox is well known for their assortment of toys, treats, and chews for your pooch. They have a number of themes to choose from if you prefer a certain style of toys and treats, and even have special boxes for large dogs that tend to chew through normal toys a little too fast.
Dog Costumes
What's cuter than a pooch in a costume? Especially to celebrate its humans birthday? If your dog-loving friend loves taking pictures of their pooch, dressing them up in silly costumes or outfits, or simply loves a festive time, getting a dog costume can make your dog lover's gift that much better. From themed costumes like movie characters to birthday costumes with party hats, or a simple doggy sweater or coat, there is no dog costume they won't love.
Dog Photo Book
There is nothing cuter than a dog, and leave it to the professional photographers for always capturing the perfect shots. There is no shortage of coffee table books featuring the prettiest pooches and playful pups, some of our favorites include The Dogist, Peanut Butter Dogs, and Underwater Dogs. Get your dog loving friend a book of the cutest dog photos around so they can lust over what could be if their dog would just learn to sit still for once!
Dog Print Accessories
If you are shopping for a girly dog lover, what's better than getting accessories that match your pooch? Whether you get a brand new dachshund handbag or dachshund tote bag for your wiener dog lover, or a set of pug dog socks, pitbull socks, and french bulldog socks someone who loves socks, your pooch-loving friend will love their furry-themed gift. There are also dog necklaces, dog earrings, and other accessories and jewelry that is dog-themed too!
Puppy Picture Frames
Many pet parents take pictures of their furry-friends non-stop, so give them a place to put their puppy pictures. You can never go wrong with giving picture frames for gifts because we will always be taking photographs. Whether you shop online or go to your closest Bed, Bath & Beyond, you'll find a large selection of paw-some picture frames, everything from general pet ones, general dog and pawprint ones, as well as breed-specific frames. Throw in an added surprise and get picture printed for them before you give the gift.
Practical Dog Gifts
We all have that practical person in our lives that would rather get a new vacuum as a gift instead of a giftcard to go shopping at their favorite department store, so if you are shopping for that person, there are a variety of dog gifts you can get them. These can include:
Dog carriers for those with small dogs
Grooming gloves or nail clippers
New dog beds or cages
New leashes/collars/harnesses
Themed rugs/mats for under their food and water dishes
Dog print washcloths, oven mitts, and towels
Because almost everyone loves dogs, it's nearly impossible to not find good gifts for dog lovers. Everywhere you look, there are fun, dog-themed items to buy, use your imagination and they could also be great gifts. Need some inspiration? Check out our dog collection.