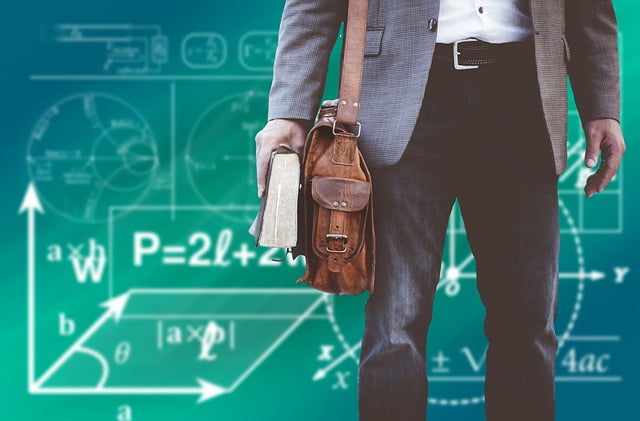 Gifts for Math Teachers
Though teachers of all stripes deserve recognition, there's a special place in our heart for those that elucidate equations and deal in decimals. If there's a math teacher in your life you'd like to show your appreciation to, you can't go wrong with any of the hand-selected gifts listed below. These mathmagical items are fun, functional, and a great way to recognize the only person you know who can recite pi past its tenth digit.
Smart Shoes
Math teachers, believe it or not, have lives outside of school. Sometimes they just want to get into a comfy pair of slippers, snuggle up next to a crackling fire, and solve a sudoku. Sudoku shoes pay tribute to the puzzling pastime with a fun, colorful design on slippers that are every bit as comfortable as they are durable. Though we can't make any promises as to whether the puzzle in the design is solvable, that may not stop the recipient from attempting to scribble out the shoes' solution whenever they're not being worn.
If you think they might prefer slippers that don't lend themselves to being drawn on, you may be interested in math shoes instead. Mathematical equations and symbols from across disciplines pop off the bright fabric of these slippers, which feature a soft inside lining for unmatched coziness and comfort. They even include an elastic V to make them easy to take on and off and a tough, traction-boosting outsole for less slippery slippers.
Math teachers don't just laze around the house during their time off, though. If you're looking for shoes that suit the energetic educator in your life, look no further than these high top teacher sneakers. The cheery, classroom montage design makes these a must for any math teacher on the go, as does the comfort and durability offered by their soft interior lining, traction-creating outsole and rounded toe construction.  
Math Mug
A long day of inspiring enthusiasm for math requires a mug of a hot and preferably caffeinated beverage. While the other teachers fumble around in the breakroom for whatever old cup they can find, the math teacher in your life can roll up after the holiday vacation with this striking math mug. Its stark black background and the white text scribbled upon it makes this fun gift look like a portable blackboard from which the recipient can sip their teaching fuel. Both microwave and dishwasher safe, this durable and mind-expanding mug will be sure to last for many fulfilling school years to come.
Golden Ratio
The golden ratio is one of the pillars of design, a calculation so cherished by the ancient world that the pyramids themselves are based on its properties. This golden ratio handbag may not be as historic a triumph, but it'll definitely look good hanging from the arm of your favorite math teacher. The perfectly-balanced, multi-colored swirls central to this handbag's design are complemented nicely by its rich navy background and its adjustable, removable shoulder straps. It's even made of tough, water-resistant material - a big bonus for those who work with kids everyday.
Pop Quiz Clock
The name for this item might be a little misleading, as you certainly wouldn't want to reward a math teacher so cruel as to spring pop quizzes on their students. What this pop quiz clock actually does is replace the numbers on its face with equivalent mathematical equations, reminding every student in the recipient's class that there's an infinite number of ways to get to a specific value. Runs efficiently on one AA battery and features solid metal construction.  
Pi Scarf
As the weather turns chilly, the math teacher in your life may seek a way to let their love of the mathematical shine through during even the coldest days. There may be no more subtle and stylish way to do so than by wearing this At Pi Sign Scarf. Made of 100% jersey cotton, this scarf is tremendously warm, exceptionally stylish, and a breeze to wash and care for. It even comes in a variety of colors to best suit the recipient's personal style.
Math Socks
The field of mathematics is so expansive and intricate that no one person could ever hope to know it all - or hope to fit it all on one pair of socks. That's why we've picked out three different styles of math socks to choose from, each as stylish and smart as the last. If the recipient likes to dabble in the theoretical, then they might like the high-minded formulations featured by the genius pattern socks. If their calculations are more practical, they might be more taken by the intricate computations of the math formula pattern socks. Those that are big on symbology and bold design may instead prefer the Math Pattern Socks, whose symbols and figures pop against the socks' bright yellow background.
Math Card
The only thing that can make a great gift even better is when it comes with a heartfelt, individualized card. This Eat Sleep Math Card gets you halfway there with a design that celebrates the recipient's dedication to everything mathematic. It even features a blank interior to give you all the room you need to tell the math teacher in your life exactly how much they mean to you. What's more, the seller of this card offers a staggering amount of customization to ensure that you can order it in the exact color and design you desire.
Conclusion
Math teachers take on the hard and often thankless job of instilling in us the basics of calculation and inspiring those who wish to dive headfirst into the world of formulas and figures. Though these gifts are but a small token of appreciation for everything they do, we know that the math teacher in your life will be delighted to receive any one of these items as a holiday present. If you have any more questions about specialized gift-giving, please feel free to visit our blog or to get in touch with one of our friendly customer service representatives.