Art & Music Collection
Save 10% On ALL Music & Art Designs Today!
Use Code:

ART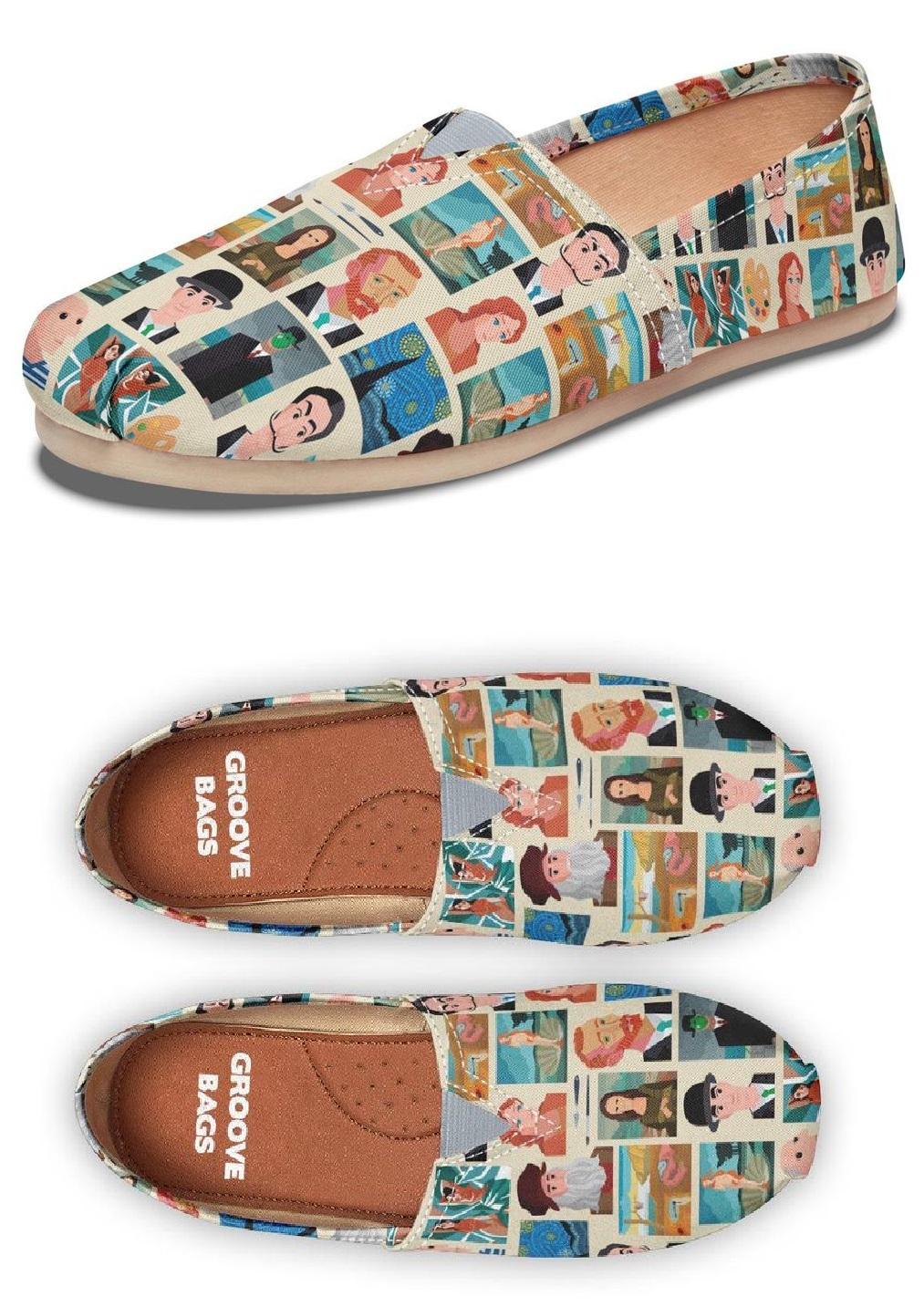 "I love these shoes! They are so cute & actually very well made. I have purchased 3 different designs so far, 2 of them were gifts for friends & they totally flipped over the shoes. These shoes make a super unique gift for anyone."
-- Melinda
⭐⭐⭐⭐⭐ 5.0
Famous Painters Casual Shoes
Do you love iconic painters such as Vincent Van Gogh, Salvador Dali, Pablo Picasso, Sandro Botticelli, Leonard da Vinci, and Rene Magritte? Then you are going to love this custom printed shoe, featuring some of their most famous works!
Features a full wrap canvas print.
Elastic stretch V for easy on-and-off use.
Soft textile lining with lightweight construction for maximum comfort
High quality canvas construction for everyday use and durable EVA outsole for exceptional traction
Estimated Delivery Time: 2-4 weeks.


Everyone Loves Their Groove!
WHATEVER YOUR PASSION - WE'VE GOT A DESIGN FOR THAT.
"These shoes are lightweight, comfortable and fun! They make me happy when I wear them and I always get complements.
They are my favorite shoes!

"

-- Kathy R.
More From The Music & Art Collection
slctvrnt:--:15733376974914,15733377007682,15733377040450,15733377073218,15733377105986,15733377138754,15733377171522,15733377204290,15733377237058,15733377269826,15733377302594,15733377335362,15733377368130,15733377400898,15733377433666:|~|:shwqty:--:true:|~|:qty:--:1:|~|:prdurl:--:/cart:|~|:prdttlclass:--:pta-13013312:|~|:prdttl:--:70's Style Music Casual Shoes:|~|:prdimgtp:--:variant:|~|:prdimgsrcset:--::|~|:prdimgclass:--:zpa-mobile-align--center zpa-align--center pia-13013312:|~|:prdimgalt:--:70's Style Music Casual Shoes:|~|:prdimg:--:https://cdn2.shopify.com/s/files/1/1374/9575/products/Casual-70sStyleMusic-CW-ROB-STR1.jpg?v=1559838352:|~|:prdclass:--:ba-13013312:|~|:prdbtnltp:--:cart:|~|:prdbtnelt:--:_self:|~|:prdbtncpt:--:BUY NOW!:|~|:prdbtnclass:--:zpa-button-padding-medium bcss-13013312:|~|:prdbtnalign:--:zpa-button-alignment-center:|~|:handle:--:70s-style-music-casual-shoes:|~|:dcrt2class:--:ba-13013316:|~|:dcrt1class:--:ba-13013322:|~|:crtmsgclass:--:pcma-13013312:|~|:brdclass:--:ba-13013319:|~|:addcrtmsg:--:Product has been added to cart slctvrnt:--:15613298016322,15613298049090,15613298081858,15613298114626,15613298180162,15613298212930,15613298245698,15613298278466,15613298311234,15613298344002,15613298376770,15613298409538,15613298442306,15613298475074,15613298507842:|~|:shwqty:--:true:|~|:qty:--:1:|~|:prdurl:--:/cart:|~|:prdttlclass:--:pta-13013311:|~|:prdttl:--:Artistic Tools Casual Shoes:|~|:prdimgtp:--:variant:|~|:prdimgsrcset:--::|~|:prdimgclass:--:zpa-mobile-align--center zpa-align--center pia-13013311:|~|:prdimgalt:--:Artistic Tools Casual Shoes:|~|:prdimg:--:https://cdn2.shopify.com/s/files/1/1374/9575/products/Casual-ArtisticTools-CW-ROB-STR1.jpg?v=1558749006:|~|:prdclass:--:ba-13013311:|~|:prdbtnltp:--:cart:|~|:prdbtnelt:--:_self:|~|:prdbtncpt:--:BUY NOW!:|~|:prdbtnclass:--:zpa-button-padding-medium bcss-13013311:|~|:prdbtnalign:--:zpa-button-alignment-center:|~|:handle:--:artistic-tools-casual-shoes:|~|:dcrt2class:--:ba-13013315:|~|:dcrt1class:--:ba-13013321:|~|:crtmsgclass:--:pcma-13013311:|~|:brdclass:--:ba-13013318:|~|:addcrtmsg:--:Product has been added to cart slctvrnt:--:43032530819:|~|:shwqty:--:true:|~|:qty:--:1:|~|:prdurl:--:/cart:|~|:prdttlclass:--:pta-13013310:|~|:prdttl:--:Color Wheel Handbag:|~|:prdimgtp:--:variant:|~|:prdimgsrcset:--::|~|:prdimgclass:--:zpa-mobile-align--center zpa-align--center pia-13013310:|~|:prdimgalt:--:Color Wheel Handbag:|~|:prdimg:--:https://cdn.shopify.com/s/files/1/1374/9575/products/10230_0_0x2_b8a10404-5a30-4f8c-9a55-a17e5135c967.jpg?v=1501783524:|~|:prdclass:--:ba-13013310:|~|:prdbtnltp:--:cart:|~|:prdbtnelt:--:_self:|~|:prdbtncpt:--:BUY NOW!:|~|:prdbtnclass:--:zpa-button-padding-medium bcss-13013310:|~|:prdbtnalign:--:zpa-button-alignment-center:|~|:handle:--:color-wheel-handbag:|~|:dcrt2class:--:ba-13013314:|~|:dcrt1class:--:ba-13013320:|~|:crtmsgclass:--:pcma-13013310:|~|:brdclass:--:ba-13013317:|~|:addcrtmsg:--:Product has been added to cart
slctvrnt:--:40119016451:|~|:shwqty:--:true:|~|:qty:--:1:|~|:prdurl:--:/cart:|~|:prdttlclass:--:pta-13013341:|~|:prdttl:--:Artistic Guitar Tote Bag:|~|:prdimgtp:--:variant:|~|:prdimgsrcset:--::|~|:prdimgclass:--:zpa-mobile-align--center zpa-align--center pia-13013341:|~|:prdimgalt:--:Artistic Guitar Tote Bag:|~|:prdimg:--:https://cdn.shopify.com/s/files/1/1374/9575/products/10230_0_0x2_5db44074-589d-439c-bec8-2f99ea17d7ec.jpg?v=1496167459:|~|:prdclass:--:ba-13013341:|~|:prdbtnltp:--:cart:|~|:prdbtnelt:--:_self:|~|:prdbtncpt:--:BUY NOW!:|~|:prdbtnclass:--:zpa-button-padding-medium bcss-13013341:|~|:prdbtnalign:--:zpa-button-alignment-center:|~|:handle:--:artistic-guitar-tote-bag:|~|:dcrt2class:--:ba-13013349:|~|:dcrt1class:--:ba-13013343:|~|:crtmsgclass:--:pcma-13013341:|~|:brdclass:--:ba-13013346:|~|:addcrtmsg:--:Product has been added to cart slctvrnt:--:38978665667,38978665731,38978665795,38978665859,38978665987,38978666051,38978666115,38978666179,38978666243,38978666307,38978666435,38978666499,38978666563,38978666627,38978666691,38978666755,38978666819,38978666883,38978666947,38978667011,38978667075,38978667139,38978667203,38978667267,38978667331,38978667395,38978667459,38978667523,38978667587,38978667651:|~|:shwqty:--:true:|~|:qty:--:1:|~|:prdurl:--:/cart:|~|:prdttlclass:--:pta-13013340:|~|:prdttl:--:Artistic Violin Shoes:|~|:prdimgtp:--:variant:|~|:prdimgsrcset:--::|~|:prdimgclass:--:zpa-mobile-align--center zpa-align--center pia-13013340:|~|:prdimgalt:--:Artistic Violin Shoes:|~|:prdimg:--:https://cdn.shopify.com/s/files/1/1374/9575/products/10230_0_0x2_1767a31d-5930-4ef5-a99c-c753629507c3.jpg?v=1494886452:|~|:prdclass:--:ba-13013340:|~|:prdbtnltp:--:cart:|~|:prdbtnelt:--:_self:|~|:prdbtncpt:--:BUY NOW!:|~|:prdbtnclass:--:zpa-button-padding-medium bcss-13013340:|~|:prdbtnalign:--:zpa-button-alignment-center:|~|:handle:--:artistic-violin-shoes:|~|:dcrt2class:--:ba-13013350:|~|:dcrt1class:--:ba-13013344:|~|:crtmsgclass:--:pcma-13013340:|~|:brdclass:--:ba-13013347:|~|:addcrtmsg:--:Product has been added to cart slctvrnt:--:15822549647426,15822549680194,15822549712962,15822549778498,15822549844034,15822549942338,15822550007874,15822550106178,15822550138946,15822550171714,15822550204482,15822550237250,15822550270018,15822550302786,15822550335554:|~|:shwqty:--:true:|~|:qty:--:1:|~|:prdurl:--:/cart:|~|:prdttlclass:--:pta-13013339:|~|:prdttl:--:Cassette Tape Casual Shoes:|~|:prdimgtp:--:variant:|~|:prdimgsrcset:--::|~|:prdimgclass:--:zpa-mobile-align--center zpa-align--center pia-13013339:|~|:prdimgalt:--:Cassette Tape Casual Shoes:|~|:prdimg:--:https://cdn2.shopify.com/s/files/1/1374/9575/products/Casual-CassetteTape-CW-ROB-STR1.jpg?v=1560653053:|~|:prdclass:--:ba-13013339:|~|:prdbtnltp:--:cart:|~|:prdbtnelt:--:_self:|~|:prdbtncpt:--:BUY NOW!:|~|:prdbtnclass:--:zpa-button-padding-medium bcss-13013339:|~|:prdbtnalign:--:zpa-button-alignment-center:|~|:handle:--:cassette-tape-casual-shoes:|~|:dcrt2class:--:ba-13013351:|~|:dcrt1class:--:ba-13013345:|~|:crtmsgclass:--:pcma-13013339:|~|:brdclass:--:ba-13013348:|~|:addcrtmsg:--:Product has been added to cart
slctvrnt:--:12582877888578,12582877921346,12582877954114,12582877986882,12582878019650,12582878052418,12582878085186,12582878117954:|~|:shwqty:--:true:|~|:qty:--:1:|~|:prdurl:--:/cart:|~|:prdttlclass:--:pta-13013405:|~|:prdttl:--:Colorful Music Notes Casual Shoes:|~|:prdimgtp:--:variant:|~|:prdimgsrcset:--::|~|:prdimgclass:--:zpa-mobile-align--center zpa-align--center pia-13013405:|~|:prdimgalt:--:Colorful Music Notes Casual Shoes:|~|:prdimg:--:https://cdn2.shopify.com/s/files/1/1374/9575/products/Colorful_Music_Notes_Casual.jpg?v=1550861064:|~|:prdclass:--:ba-13013405:|~|:prdbtnltp:--:cart:|~|:prdbtnelt:--:_self:|~|:prdbtncpt:--:BUY NOW!:|~|:prdbtnclass:--:zpa-button-padding-medium bcss-13013405:|~|:prdbtnalign:--:zpa-button-alignment-center:|~|:handle:--:colorful-music-notes-casual-shoes:|~|:dcrt2class:--:ba-13013410:|~|:dcrt1class:--:ba-13013416:|~|:crtmsgclass:--:pcma-13013405:|~|:brdclass:--:ba-13013413:|~|:addcrtmsg:--:Product has been added to cart slctvrnt:--:13728572571714:|~|:shwqty:--:true:|~|:qty:--:1:|~|:prdurl:--:/cart:|~|:prdttlclass:--:pta-13013406:|~|:prdttl:--:Colorful Piano Pillow Cover:|~|:prdimgtp:--:variant:|~|:prdimgsrcset:--::|~|:prdimgclass:--:zpa-mobile-align--center zpa-align--center pia-13013406:|~|:prdimgalt:--:Colorful Piano Pillow Cover:|~|:prdimg:--:https://cdn.shopify.com/s/files/1/1374/9575/products/10230_0_0x2_c67c1313-292b-4c43-b734-f1022904c2ab.jpg?v=1539477665:|~|:prdclass:--:ba-13013406:|~|:prdbtnltp:--:cart:|~|:prdbtnelt:--:_self:|~|:prdbtncpt:--:BUY NOW!:|~|:prdbtnclass:--:zpa-button-padding-medium bcss-13013406:|~|:prdbtnalign:--:zpa-button-alignment-center:|~|:handle:--:colorful-piano-pillow-cover:|~|:dcrt2class:--:ba-13013409:|~|:dcrt1class:--:ba-13013415:|~|:crtmsgclass:--:pcma-13013406:|~|:brdclass:--:ba-13013412:|~|:addcrtmsg:--:Product has been added to cart slctvrnt:--:15613395042370,15613395075138,15613395107906,15613395140674,15613395173442,15613395206210,15613395238978,15613395271746,15613395337282,15613395370050,15613395402818,15613395435586,15613395468354,15613395501122,15613395533890:|~|:shwqty:--:true:|~|:qty:--:1:|~|:prdurl:--:/cart:|~|:prdttlclass:--:pta-13013407:|~|:prdttl:--:Art Gallery Casual Shoes:|~|:prdimgtp:--:variant:|~|:prdimgsrcset:--::|~|:prdimgclass:--:zpa-mobile-align--center zpa-align--center pia-13013407:|~|:prdimgalt:--:Art Gallery Casual Shoes:|~|:prdimg:--:https://cdn2.shopify.com/s/files/1/1374/9575/products/Casual-ArtGallery-CW-ROB-STR1.jpg?v=1558749839:|~|:prdclass:--:ba-13013407:|~|:prdbtnltp:--:cart:|~|:prdbtnelt:--:_self:|~|:prdbtncpt:--:BUY NOW!:|~|:prdbtnclass:--:zpa-button-padding-medium bcss-13013407:|~|:prdbtnalign:--:zpa-button-alignment-center:|~|:handle:--:art-gallery-casual-shoes:|~|:dcrt2class:--:ba-13013408:|~|:dcrt1class:--:ba-13013414:|~|:crtmsgclass:--:pcma-13013407:|~|:brdclass:--:ba-13013411:|~|:addcrtmsg:--:Product has been added to cart
slctvrnt:--:34220708803,34220708931,34220709059,34220709187,34220709315,34220709379,34220709443,34220709507,34220709571,34220709635,34220709699,34220709763,34220709827,34220709891,34220709955,34220710019,34220710083,34220710147,34220710211,34220710275,34220710339,34220710403,34220710467,34220710531,34220710659,34220710787,34220710851,34220710915,34220710979,34220711043:|~|:shwqty:--:true:|~|:qty:--:1:|~|:prdurl:--:/cart:|~|:prdttlclass:--:pta-13013431:|~|:prdttl:--:Art Lovers Shoes:|~|:prdimgtp:--:variant:|~|:prdimgsrcset:--::|~|:prdimgclass:--:zpa-mobile-align--center zpa-align--center pia-13013431:|~|:prdimgalt:--:Art Lovers Shoes:|~|:prdimg:--:https://cdn.shopify.com/s/files/1/1374/9575/products/10230_0_0x2_150ef257-0229-4457-8be7-41ccd214c41d.jpg?v=1487010876:|~|:prdclass:--:ba-13013431:|~|:prdbtnltp:--:cart:|~|:prdbtnelt:--:_self:|~|:prdbtncpt:--:BUY NOW!:|~|:prdbtnclass:--:zpa-button-padding-medium bcss-13013431:|~|:prdbtnalign:--:zpa-button-alignment-center:|~|:handle:--:the-artist-shoes:|~|:dcrt2class:--:ba-13013439:|~|:dcrt1class:--:ba-13013433:|~|:crtmsgclass:--:pcma-13013431:|~|:brdclass:--:ba-13013436:|~|:addcrtmsg:--:Product has been added to cart slctvrnt:--:15420880158786,15420880191554,15420880224322:|~|:shwqty:--:true:|~|:qty:--:1:|~|:prdurl:--:/cart:|~|:prdttlclass:--:pta-13013430:|~|:prdttl:--:Color Wheel Splatter Area Rug:|~|:prdimgtp:--:variant:|~|:prdimgsrcset:--::|~|:prdimgclass:--:zpa-mobile-align--center zpa-align--center pia-13013430:|~|:prdimgalt:--:Color Wheel Splatter Area Rug:|~|:prdimg:--:https://cdn.shopify.com/s/files/1/1374/9575/products/front_1_faed63ca-c3f5-4cb1-9802-972cdd18890f.jpg?v=1556923938:|~|:prdclass:--:ba-13013430:|~|:prdbtnltp:--:cart:|~|:prdbtnelt:--:_self:|~|:prdbtncpt:--:BUY NOW!:|~|:prdbtnclass:--:zpa-button-padding-medium bcss-13013430:|~|:prdbtnalign:--:zpa-button-alignment-center:|~|:handle:--:color-wheel-splatter-area-rug:|~|:dcrt2class:--:ba-13013440:|~|:dcrt1class:--:ba-13013434:|~|:crtmsgclass:--:pcma-13013430:|~|:brdclass:--:ba-13013437:|~|:addcrtmsg:--:Product has been added to cart slctvrnt:--:491946147843,491946180611,491946213379,491946246147,491946278915,491946311683,491946344451,491946377219,491946409987,491946442755,491946475523,491946508291,491946541059,491946573827,491946606595,491946639363,491946672131,491946704899,491946737667,491946770435,491946803203,491946835971,491946868739,491946901507,491946934275,491946967043,491946999811,491947032579,491947065347,491947098115:|~|:shwqty:--:true:|~|:qty:--:1:|~|:prdurl:--:/cart:|~|:prdttlclass:--:pta-13013429:|~|:prdttl:--:Colorful Art Slip Ons:|~|:prdimgtp:--:variant:|~|:prdimgsrcset:--::|~|:prdimgclass:--:zpa-mobile-align--center zpa-align--center pia-13013429:|~|:prdimgalt:--:Colorful Art Slip Ons:|~|:prdimg:--:https://cdn.shopify.com/s/files/1/1374/9575/products/10230_0_0x2_1c6287d5-803e-4ee5-82ca-3d200da85afe.jpg?v=1513708521:|~|:prdclass:--:ba-13013429:|~|:prdbtnltp:--:cart:|~|:prdbtnelt:--:_self:|~|:prdbtncpt:--:BUY NOW!:|~|:prdbtnclass:--:zpa-button-padding-medium bcss-13013429:|~|:prdbtnalign:--:zpa-button-alignment-center:|~|:handle:--:colorful-art-slip-ons:|~|:dcrt2class:--:ba-13013441:|~|:dcrt1class:--:ba-13013435:|~|:crtmsgclass:--:pcma-13013429:|~|:brdclass:--:ba-13013438:|~|:addcrtmsg:--:Product has been added to cart
:|zpendofcontent|: